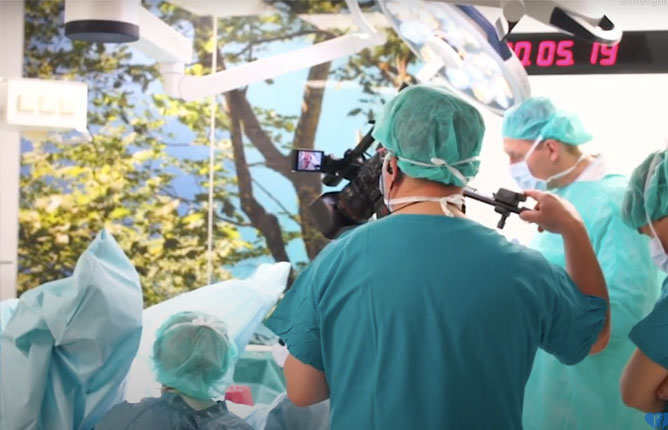 Minimally invasive pelvic surgery step-by-step – ONSITE and ONLINE
May 25, 2023 @ 8:00 am

-

4:00 pm

CEST
WORKSHOP – MAY – 25 TH 2023 POZNAN–POLAND

BEGINNING OF THE LIVE SURGERY – 8:00 AM

INTERNATIONAL CENTRE OF MINIMALLY INVASIVE PELVIC SURGERY

THE GYNECOLOGIC AND OBSTETRICAL UNIVERSITY HOSPITAL OF THE KAROL MARCINKOWSKI POZNAN – POLAND
Dear All,
Dear Colleagues,
We have the honor and pleasure to invite you to participate in PRACTICAL WORKSHOPS on MINIMALLY INVASIVE PELVIC SURGERY titled:
MINIMALLY INVASIVE PELVIC SURGERY STEP BY STEP – ONSITE AND ONLINE,
to be held in 2023 at the International Centre of Minimally Invasive Pelvic Surgery of the Gynecologic and Obstetrical University Hospital of the Karol Marcinkowski Poznan University of Medial Sciences in Poznan under the Honorary Patronage of His Magnificence Rector Professor Andrzej Tykarski, MD, PhD.
DATES: WORKSHOP – 25.05.2023 – Beginning of the Live Surgery – 8:00 am
I am pleased to inform you that my invitation to conduct the Workshops on that date was accepted by some of the most outstanding European gynecologic surgeons in minimally invasive gynecologic surgery techniques: Joerg Neymayer MD PhD of Charité-Universitätsmedizin in Berlin – Germany, Gil Levy MD, PhD of Bnei Brak Hospital in Israel, Burghard Abendstein MD PhD of Landeskrankenhaus in Austria, Andrzej Kuszka MD PhD of Hospital zum Heiligen Geiste of Frankfurt and Heimo Magg MD PhD of Zuger Kantonsspital in Switzerland, who will share their experience in minimally invasive gynecologic surgery. We will also have – as a guest and operator – an outstanding Polish expert – professor Paweł Szymanowski of Cracow.
It is our intention to have the Workshops dedicated to gynecologists who have already mastered the basic techniques in gynecologic laparoscopy and all Colleagues who are planning to use Minimally Invasive Pelvic Surgery techniques in their professional work. We invite you to actively participate in surgeries.
Please be informed that maximum 8 gynecologists can participate in Practical Workshops on Minimally Invasive Pelvic Surgery – they will actively participate in the surgical procedures directly at the operating table. During these surgical procedures, details of surgical techniques will be presented step by step.
The 8 surgical procedures planned will include:
laparoscopic mesh implantation using Dubuisson method,
laparoscopic hysteropexy,
laparoscopic sacrocolpopexy,
transvaginal mesh implantation procedures to reconstruct the pelvic floor with the use of synthetic material and Self-Retaining Support (SRS) Technology For Pelvic Organ Prolapse.
The huge interest in the ONLINE format of the Workshops in previous year has prompted us to continue in 2023. As in previous years, all surgeries will be streamed live from the operating rooms. Participation in the Workshops ONLINE are free of charge on the workshop date. Monthly access to the video recording of the operating procedures of a particular date is PLN 246.
At the same time we are planning to conduct the workshops in the ONSITE format, with the participation of gynecologists present in the operating rooms, which naturally will depend on the epidemiological situation. We do hope that both ONLINE format and ACTIVE attendance format will be of interest to you and we as organizers will do our best to ensure the top professional and educational level of Practical Workshops on:
MINIMALLY INVASIVE PELVIC SURGERY
STEP BY STEP – ONSITE AND ONLINE.
OPERATING ROOM 1: https://youtube.com/live/dHX_K27gZfw
OPERATING ROOM 2: https://youtube.com/live/Ppc5Q9760H4
I look forward to seeing you,
prof. Maciej WILCZAK
——————————————–
prof. dr hab. med. Maciej Wilczak
Kierownik Katedry i Kliniki Zdrowia Matki i Dziecka
Uniwersytet Medyczny im.Karola Marcinkowskiego w Poznaniu
Head of the Department of Mother's and Child's Health
University of Medical Science in Poznan
tel. +48 (61) 8419-618
tel. +48 608-421-606
e-mail:kzmid.gpsk.ump.edu.pl
www.kzmid.ump.edu.pl
Koordynator Międzynarodowego Centrum Minimalnie Inwazyjnej Chirurgii Miednicy Mniejszej
Ginekologiczno – Położniczy Szpital Kliniczny
Uniwersytetu Medycznego im. Karola Marcinkowskiego w Poznaniu
60-535 Poznań
ul. Polna 33
Coordinator of the International Center for Minimally Invasive Pelvic Surgery
Gynecological – Obstetrics Hospital University of Medical Science in Poznan
Polna Str. 33
60-535 Poznań
Phone +48 (61) 8419 273
e-mail: office@gpsk.ump.edu.pl
www.gpsk.ump.edu.pl
Share This Article, Choose Your Platform.