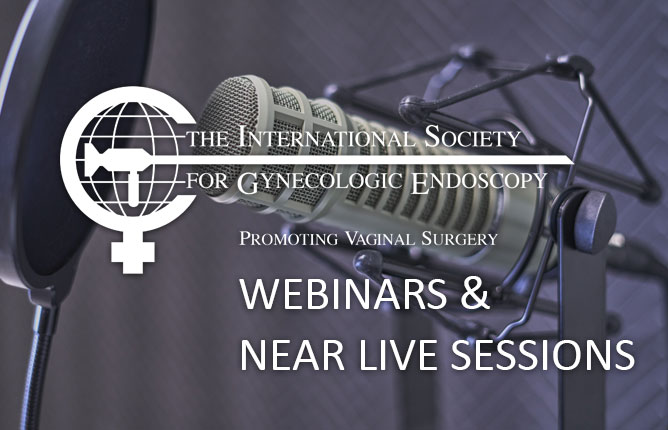 Nearly Live surgery Endometriosis
September 26, 2020 @ 4:00 pm

-

5:00 pm

CEST
Dear members, ISGE is committed to continuing education.
In light of this mission and the current situation in our world due to SARS – CoV – 2, Corona 2, COVID 19 virus the ISGE EXCO in teleconference Sunday May 10 did make the decision to strengthen it e-learning program. You find hereby the schedule of the webinars, the nearly life surgeries and teleconferences. Most of you are familiar with the concept of the webinars.
Due to the time differences these webinars will be recorded and brought on the website so that you – our members – can enjoy these at your leisure. A new concept are the nearly live surgeries. These are the unedited video recordings of surgeries with voice over in English so that you can watch these and be instructed how to perform at best your surgeries.
The conference on endometriosis is ISGE's response to the virus proving that we will not be beaten. The best endometriosis surgeons in the world will talk to you and you will be able to ask your questions. Enjoy this program of our iSGE. EXCO has decided that the webinars and the nearly live surgeries will be for free until December 31/2020. For the teleconference we will be asking a small congress fee. Regards and keep safe by physical distancing.
26/09/2020 – 04:00 pm CEST

Duration: 60 min. video and Q&A

Nearly Live Surgery Endometriosis
Once you have submitted your registration, you will receive a confirmation by e-mail, including the link to get access to the webinar.
A recording of the session will be available later on the ISGE-site at a later date.
We will not be able to process any registrations by mail. To register, click the Register-button at the bottom of this page. A popup will let you complete the registration process, or click the button here below. You will be redirected to the Webinar-registration page.

Share This Article, Choose Your Platform.