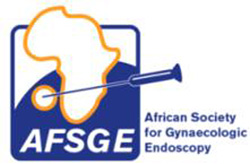 This international congress is organised by the International Society for Gynecologic Endoscopy (ISGE) in conjunction with the African Society for Gynaecological Endoscopy (AFSGE) and the Gynaecological Endoscopic Surgery and Human Reproductive Teaching Hospital Paul and Chantal Biya (CHRACERH).
The theme of this meeting is:
DOWNLOAD BROCHURE
Gynaecological endoscopic surgery
and fertility issues, pelvic adhesions, tubal pathologies, adnexal pathologies, abnormal uterine bleeding, fibroids, endometriosis, oncology
DOWNLOAD BROCHURE
The focus will be on issues related to the improvement of medical procedures and techniques through a patientcentered approach that balances innovation and technology, as well as quality and safety.
The Postgraduate courses are opportunities for advanced surgeons to develop their skills as far as hysteroscopy, vaginal surgery and laparoscopic suturing are concerned; the ISGE LASST Certification will also be available on this occasion. A pre-congress workshop, intended for young endoscopists and nurses will, on its part, be focusing on providing basic tips and tricks in endoscopy.
The scientific program is designed to provide attendees with presentations whose scientific quality is based on evidence and consequently your written and video abstracts are expected by Sunday 31st December 2017 at 11:59 UTC.
REGISTER NOW !
ISGE-AFSGE Annual Meeting at Yaoundé
Together we move to minimally invasive surgery
Centre of Excellence CHRACERH, April 23 - 27, 2018
REGISTER NOW !