On the request of Professor Moreau head of the division of Obstetrics and Gynaecology of the University in Dakar Senegal ISGE did stage a course in advanced gynaecological endoscopy. As the official language in Senegal is French our Vice President Bruno van Herendael did take on the theoretical and practical aspects of the course. The first two days theoretical aspects of the different aspects of gynaecological endoscopy both hysteroscopy and laparoscopy have been covered complemented by lectures of the local faculty. The last three days of the course were dedicated to live surgery transmitted to the auditorium where the students, residents and senior staff members – who were not helping out in theatre – did follow the operations. Nine surgeries have been completed with intra-operative discussions with the audience. We started off with diagnostic cases and cystectomies followed by more difficult cases. Two hysterectomies were performed one where myomas had to be removed before the hysterectomy could be finished. Operative ones followed diagnostic hysteroscopies. The bipolar techniques were demonstrated. All patients did well. The course was a success and professor Moreau is in favour for collaboration with ISGE on a regular bases so that the local teachers can be instructed as to spread the use of gynaecological endoscopy in the sub-Saharan region.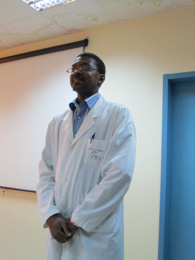 Professeur Alassane Diouf in charge of the Pikine hospital of the university where the course took place.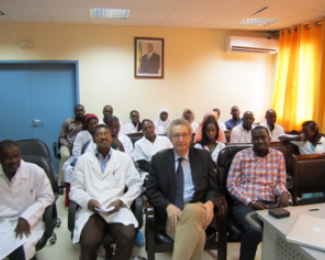 The head midwife of the department with Prof van Herendael and Prof Diouf.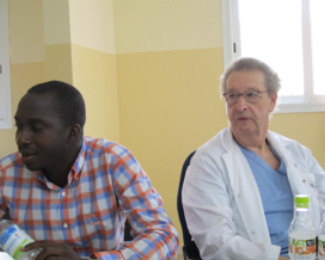 Prof van Herendael with dr Omar Gassame who did stay in Antwerp at the EYCA to finish his PhD and invited prof van Herendael to Dakar.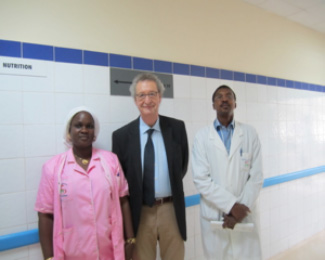 Part of the audience during the lectures at the hôpital Pikine of the Cheikh Ante Diop Univeristy at Dakar Senegal.