Kenyan born Consultant & Gynecologist who pioneered Minimal Access Surgery in Africa 25 years ago has been awarded a Fellowship of the Royal College of Obstetricians and Gynecologists, FRCOG "honoris causa". This is the first time that the RCOG has bestowed this award that acknowledges the highest level of dedication and achievements in Clinical care on the African Continent.
Prof. Rafique Parkar was born in Mombasa where he pursued his early education and spent much of his early years. Having acquired his Nursery and early Primary education in Mombasa, he completed his Primary education in Nairobi where he was a border and later completed his high school in Kisumu. He subsequently completed his undergraduate Medical studies at the Kasturba Medical College In Manipai, India.
Having returned to Kenya he served in various Public Hospitals before pursuing his Masters in Obstetrics & Gynecology at the University of Nairobi. On completion, Prof. Parkar was posted to the Coast General Provincial Hospital and later to the Kilifi District Hospital where he served for seven years. He later moved back to Mombasa and ventured into Private Practice.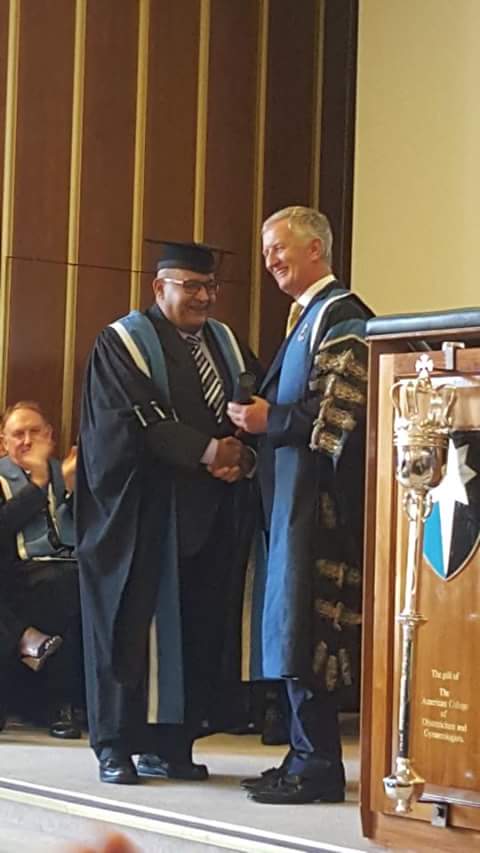 By the late 1990′s Prof. Parkar developed an immense interest in Minimal Access Surgery and initially pursued a Diploma in Laparoscopic Surgery at the Coimbatore Institute of Gastrointestinal Endosurgery (CIGES). Subsequently he attended various dedicated Workshops and additional training in Kiel, Hamburg ( Germany ) . Clermond Ferrand & Strasbourg ( France ) and various Institutions in Asia and Europe.
All in all he has attended over 40 dedicated training programs and Workshops to include Advanced Laparoscopic & Hysteroscopic procedures including Laparoscopic Myomectomy and Hysterectomy ( for Fibroids ), treatment of Infertility, Pelvic Endometriosis, Urogynecological procedures and more recently Laparoscopic Surgery for Cancers of the female genital tract.
In 2000, he moved his Practice to Nairobi. After working at various Private Institutions in Nairobi, he established the International Centre for Minimal Access Surgery ( ICMAS) in January 2010.
Prof. Rafique B. Parkar is a seasoned and immensely experienced Obstetrician and Gynecologist in Africa with an immense passion to teach and has presented papers at over 100 local and International Conferences. This earned him a Merit award in 2010, from the World Health Organization and The Kenya Society of Obstetrics & Gynecology for pioneering and continiously promoting Minimal Access Surgery in East, Central and West Africa.
He has published close to 50 papers in local and International Journals and enjoys being a reviewer for several international Journals.
In addition, he has organized numerous Workshops locally and has encouraged many Gynecologists and General Surgeons in Kenya to embrace Laparoscopic Surgery. His most recent achievement was being the Conference Chair of the 3rd ISGE African Conference which was extremely successful with 97 speakers and close to 500 participants from 31 different Countries. With over 25 years of experience in Laparoscopic Surgery in Africa he has beyond any doubt been pivotal in its acceptance on the Continent.
He has been a member of the Medical Practitioners Board ( 2005 to 2010 ). The Executive Board of The international Society of Gynaecologic Endoscopy ( iSGE : 2010 to 2015 ) and is currently the Chairman of the Kenya Society of Endoscopic Specialities ( 2009 to 2011, 2014 to date ).
He is an active member of the international Urogynaecology Association, the international Association of Gynecological Oncology and The American Association of Gynecological Laparoscopists ( AAGL ). He has recently been appointed as Associate Professor of Obstetrics & Gynecology at the University of Cape Town, South Africa, where he continues to mentor Consultants and Registrars in Laparoscopic Surgery at various Institutions including the Groote Schuur & Somerset Hospitals. He also regularly trains Surgeons in several other African Countries including Zimbabwe, Zambia, Rwanda and Uganda.
Prof. Parkar is also the Medical Co-ordinator for the Round Table Week of Healing Project since 1994.
This is a Charitable project where a team of Surgeons perform free surgical procedures on mothers and children at various Rural Hospitals twice a year has been hugely successful. On an average between 100 to 150 operative procedures are undertaken during each Camp. Recently at the last Camp a record of 479 Gynecological Surgeries were performed over a period of 10 days.
Prof. Rafique Parkar continues to being an inspiration for many younger Surgeons in the region and has been an excellent rolemodel.