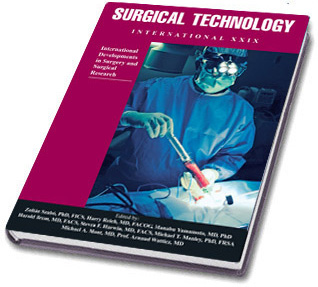 Surgical Technology International XXVIII, a peer-reviewed reference publication, indexed on PUBMED, presents the latest techniques and technological developments within the surgical and associated fields. Surgical Technology International is a biannual publication (published every six months). Further information is available at www.surgicaltechnology.com
Surgical Technology International features latest advances in operative surgical procedures as well as the most important technological advances in Surgery. The publication contains 40-45 articles written by leading Surgeons and Professors including Mario Malzoni, Chris Sutton, James Kondrup, Maurizio Abrao, Steven McCarus, Morris Wortman, Arnaud Wattiez, Filipa Osorio, John Miklos, Guy Voeller, Stuart Hart, Camran Nezhat, Jay Redan, and many others.
We would be pleased to offer all members of the International Society for Gynecological Endosurgery a lifetime free access to all future Surgical Technology International articles at a nominal fee of 100 euros. Please follow the link below in order to access the latest edition of the publication.
A Novel Trans-illuminating Colpotomy Device …
The McCarus-Volker ForniSee®: A Novel Trans-illuminating Colpotomy Device and Uterine Manipulator for Use in Conventional and Robotic-Assisted Laparoscopic Hysterectomy
Melissa M. Gutierrez, MD, Assistant FMIGS Program Director, Minimally Invasive Gynecologic Surgery, Las Vegas Minimally Invasive Surgery/Women's Pelvic Health Center, Las Vegas, Nevada, Jasmine D. Pedroso, MD, Assistant FMIGS Program Director, Minimally Invasive Gynecologic Surgery, Las Vegas Minimally Invasive Surgery/Women's Pelvic Health Center, Las Vegas, Nevada, K. Warren Volker MD, PhD, FMIGS Program Director, Minimally Invasive Gynecologic Surgery   , Las Vegas Minimally Invasive Surgery/Women's Pelvic Health Center, Las Vegas, Nevada, David L. Howard, MD, PhD, Research Director, Minimally Invasive Gynecologic Surgery, Las Vegas Minimally Invasive Surgery and Women's Pelvic Health Center, Las Vegas, Nevada, Steven D. McCarus, MD, Director of Gynecologic Surgery, McCarus Surgical Specialists for Women, Florida Hospital, Celebration, Florida
An Innovative Tool for Increasing Patient Safety …
Pisat's Visual Vasopressor Injection Needle: An Innovative Tool for Increasing Patient Safety in Laparoscopic Myomectomy
Dr Sanket Pisat, MS, DNB, Consultant/Gynaecological Endoscopic Surgeon, Department of Gynecology, Akanksha Hospital, Mumbai, India, Bruno van Herendael, MD, Professor/Consultant, Department of Gynecological Endoscopy, ZNA Stuivenberg Hospital, Antwerp, Belgium
Pregnancy Complications After Hysteroscopic Metroplasty …
Pregnancy Complications After Hysteroscopic Metroplasty: A Ten-Year Case-Control Study
Alessandro Loddo, MD, Physician, Obstetrics-Gynecology Clinic and Pathophysiology of Human Reproduction Unit, Department of Surgical Sciences, University Hospital of Cagliari, Sardinia, Italy, Maurizio Nicola D'Alterio, MD, Physician, Obstetrics-Gynecology Clinic and Pathophysiology of Human Reproduction Unit, Department of Surgical Sciences, University Hospital of Cagliari, Sardinia, Italy, Manuela Neri, MD, Physician, Obstetrics-Gynecology Clinic and Pathophysiology of Human Reproduction Unit, Department of Surgical Sciences, University Hospital of Cagliari, Sardinia, Italy, Francesca Masala, MD, Physician, Obstetrics-Gynecology Clinic and Pathophysiology of Human Reproduction Unit, Department of Surgical Sciences, University Hospital of Cagliari, Sardinia, Italy, Fiorenza Lo Cane, MD, Physician, Obstetrics-Gynecology Clinic and Pathophysiology of Human Reproduction Unit, Department of Surgical Sciences, University Hospital of Cagliari, Sardinia, Italy, Gian Benedetto Melis, MD, Full Professor in Obstetrics and Gynecology, Obstetrics-Gynecology Clinic and Pathophysiology of Human Reproduction Unit, Department of Surgical Sciences, University Hospital of Cagliari, Sardinia, Italy
Adnexal Torsion in the First Trimester of Pregnancy …
Adnexal Torsion in the First Trimester of Pregnancy: Diagnosis, Laparoscopic Management, and Review of the Literature
Rafael Bras, MD, Department of Obstetrics and Gynecology, Centro Hospitalar do Porto, Porto, Portugal, Jorge Braga, MD, Professor, Department of Obstetrics and Gynecology, Centro Hospitalar do Porto, Porto, Portugal, António Tomé, MD, PhD, Full Professor, Department of Obstetrics and Gynecology, Centro Hospitalar do Porto, Porto, Portugal, Helder Ferreira, MD, PhD, Coordinator of Endoscopy Unit, Department of Obstetrics and Gynecology, Centro Hospitalar do Porto, Porto, Portugal, Life and Health Sciences Research Institute (ICVS), School of Health Sciences, University of Minho, Braga, Portugal, ICVS/3B's – PT Government Associate Laboratory, Braga/Guimarães, Portugal
Should We Abandon the Gynecologic Resectoscope …
Should We Abandon the Gynecologic Resectoscope in Favor of Hysteroscopic Morcellators?
Morris Wortman, MD, FACOG, Director, Center for Menstrual Disorders, Rochester, New York, Clinical Associate Professor, Department of Obstetrics & Gynecology, University of Rochester Medical Center, Rochester, New York
An Update on the Use of Barbed Suture …
An Update on the Use of Barbed Suture in Minimally Invasive Gynecological Surgery (MIGS)
James Dana Kondrup, MD, Assistant Clinical Professor of OB/GYN, Department of OB/GYN, Our Lady of Lourdes Memorial Hospital, Binghamton, NY, Frances R. Anderson, PhD, RN, Research Coordinator, Our Lady of Lourdes Memorial Hospital, Binghamton, NY
Patient Outcomes Following Injury from Hysteroscopic Sterilization …
Patient Outcomes Following Injury from Hysteroscopic Sterilization
E Scott Sills, MD, PHD, Medical Director, Reproductive Research Section, Center for Advanced Genetics, Carlsbad, California, Molecular and Applied, Biosciences Department, Doctoral Researcher, Faculty of Science and Technology, University of Westminster, London, UK, Marie M Dalton, BSN, Graduate Assistant, Department of Political Science, Howard H. Baker, Jr. Center for Public Policy, University of Tennessee, Knoxville, Tennessee
Laparoscopic Psoas Hitch Double Ureteral Re-implantation …
Laparoscopic Psoas Hitch Double Ureteral Re-implantation in the Duplex Urinary System for Treatment of Ureterovaginal Fistula
Tito Palmela Leitão, MD, FEBU, Head of Minimally Invasive Surgery Unit, Urology Department, Centro Hospitalar Lisboa Norte , Faculdade de Medicina de Lisboa, CAML, Centro Académico de Medicina de Lisboa, Lisboa, Portugal, Ricardo Pereira e Silva, MD, Chief Resident, Urology Department, Centro Hospitalar Lisboa Norte, Lisboa, Portugal, Sónia Barata, MD, Clinical Assistant, Obstetrics and Gynecology Department, Centro Hospitalar Lisboa Norte, Hospital Santa Maria, Lisboa, Portugal, Adalgisa Guerra, MD, Head of  Unit, Radiology Department, Hospital da Luz, Lisboa, Portugal, Filipa Osório, MD, Head of Minimally Invasive Surgery Unit, Obstetrics and Gynecology Department , Hospital da Luz, Faculdade de Medicina de Lisboa, CAML, Centro Académico de Medicina de Lisboa, Lisboa, Portugal
See-and-Treat Hysteroscopy …
"See-and-Treat" Hysteroscopy in the Management of Endometrial Polyps
Morris Wortman, MD, Clinical Associate Professor , Gynecology and Obstetrics Department, University of Rochester Medical Center, Rochester, NY, Director, Center for Menstrual Disorders, Rochester, NY
Barbed Sutures in Minimally Invasive Gynecologic Surgery
Barbed Sutures in Minimally Invasive Gynecologic Surgery
Emad Mikhail, MBChB, MD, FACOG, Fellow of Minimally Invasive Gynecologic Surgery, Allison Wyman, MD, Fellow of Female Pelvic Medicine and Reconstructive Surgery, Lindsey Hahn, MD, Fellow of Female Pelvic Medicine, Stuart Hart, MD, MBA, MS, FACOG, FACS, Associate Professor
Laparoscopic Modified Vecchietti Technique …
Laparoscopic Modified Vecchietti Technique for Mayer-Rokitansky-Küster-Hauser (MRKH) Syndrome: Report of Two Cases
Joseph Nassif, MD, Assistant Professor, Joe Eid, MD, Research Fellow, Pierre Akiki, Medical Student, Ali Khalil, MD, Professor, Ghina Ghazeeri, MD, Associate Professor, Department of Obstetrics and Gynecology, American University of Beirut Medical Center, Beirut, Lebanon
Abdominal Wall Endometriosis Excision with Mesh Closure …
Abdominal Wall Endometriosis Excision with Mesh Closure – Report of Two Cases
Carolina Vaz-de-Macedo, MD, Resident, Ana Gomes-da-Costa, MD, Resident, Sofia Mendes, MD, Resident, Sónia Barata, MD, Clinical Assistant, Minimally Invasive Surgery, Conceição Alho, MD, Clinical Assistant, Carlos Calhaz Jorge, PhD, MD, Chief Gynecology, Filipa Osório, MD, Clinical Assistant, Head of Minimally Invasive Surgery, Obstetrics and Gynecology Department, Faculdade de Medicina de Lisboa, CAML, Centro Académico de Medicina de Lisboa, Hospital da Luz, Lisboa, Portugal
We are currently commissioning articles for our 31st Edition. We would like to invite you to contribute another article, a new study which you are currently involved in. Instructions for authors can be found at www.surgicaltechnology.com >>Instructions for Authors.
Please send us a short 200-300 word Abstract. Email editor@ump.com The deadline for submissions is August 30th, 2017.
If you have any questions, please do not hesitate to contact Dr Bruno van Herendael bruno.vanherendael@gyntech.be or Dr Harry Reich. HRlscp@aol.com