In conjunction with the Winners of +he Academy ISGE did organize the first "Ornella Sizzi" Women Surgeon Day. 
It is the intention of the ISGE to organize such a Women Surgeon Day each year to deal with the specific approach of women to endoscopic surgery.
This first day has been quite emotional for the friends of Ornella, all of them did at one time or another work very closely with our friend, when they took the stage.
The moderators Anastasia Ussia and Lilo Mettler did a great job in keeping the lectures in a tight schedule. Cesare Monanucci who does run the ISGE secretariat was very attentive in offering a red rose to each of the speakers.
Maria Grazia Porpora giving the first lecture on the ergonomics of endoscopic surgery for women did set the trend followed by Carolina Afors who did prove that the female brain does work quite different from the males and followed Maria Grazia in explaining that it is important to take in account the ergonomy as to decide where to put the secondary trocars.
Radha Sayed of New York did follow with explaining that the robot is able to take care of many of the ergonomic problems caused by endoscopic surgery.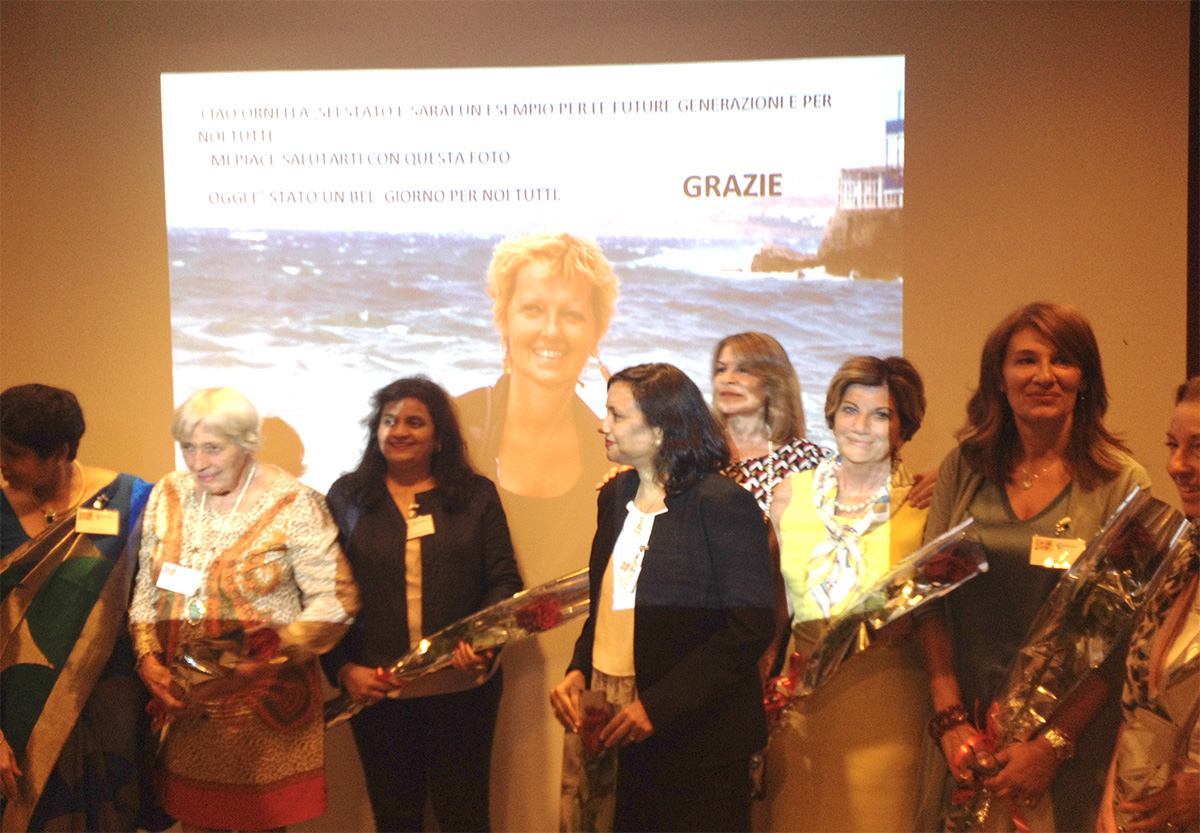 Nutan Jain did explain to the audience that no uterus is too big for an endoscopic surgeon when knowing how to tackle the problem. Sunita Tandulwadkar stoke to the theme of the winners following up on Nutan Jain's lecture explanting how her tips and tricks, as a female endoscopic surgeon, on how to approach the hysterectomy. Meenu Agarwal had a lecture on the impact of endoscopic surgery on fertility listing the different pathologies where endoscopic surgery improves the outcome of fertility treatment.
Anna Fagotti stressed that there is no difference in the way a female surgeon handles radical hysterectomy as compared to the male counterparts and illustrated this with an exceptional video recording of one of her operations. She did stress that it I of utmost importance to train the juniors and give them active participation during theatre work. Lilo Mettler gave a short but well received lecture on the treatment of endometriosis as she witnessed the importance Ornella gave to the subject.
The last speaker Lucia Manganaro an exceptionally documented lectures on how the radiologists can help the surgeon with the different imaging techniques stressing on the fact the diffusion MRI is the solution in some of the difficult cases where PET scan is the last resort.
Anastasia Ussia did arrange for a soprano and an band of the RAI as her present to Ornella. These young ladies did perform during the dinner at the Vigna dei Cardinali.
The first edition of the Ornella Sizzi Women Surgeons Day has been a success and will be repeated !!